With Hyperspectral Imaging you can reveal an object's hidden information, identify invisible objects and features, and separate similar-looking objects.
Optical sensors, such as your phone camera, emulate the human eye by capturing reflected light in the red, green, and blue (RGB) spectral channels. Sensors form a photograph of RGB pixels that human eyes can process. RGB spectral regions represent the visible light spectrum. Humans use visible light to quickly detect objects' physical properties (size, color, and shape) and their relation (proximity and distance) to their environment.
If we want to know an object's chemical composition, what it is made of, and other chemical properties, simple RGB channels are not enough. RGB sensors belong to the group of multispectral sensors, which do not have continuous spectral channels but only use a subset of selected wavelengths.
For most applications, multispectral channels are not sensitive enough to accurately identify specific object features. Simply put, the spectral resolution of RGB cameras is too low to detect spectral features or the spectral features are only visible to near-infrared sensors.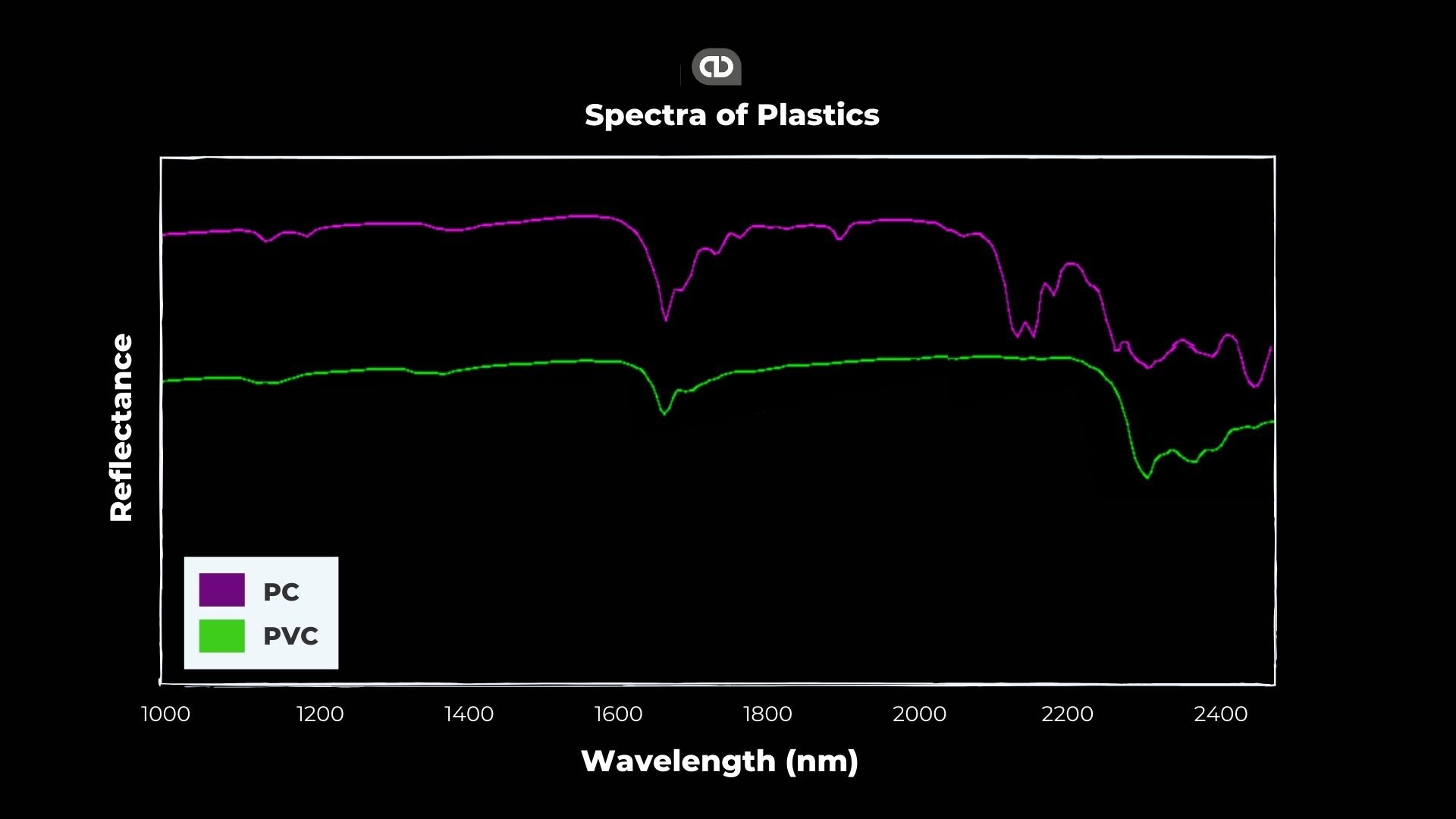 An illustrative spectral profile of two plastics, polycarbonate (PC) and polyvinyl chloride (PVC).
Hyperspectral imaging, however, can reveal an object's hidden information, identify invisible features, and separate similar-looking objects. For example, when thinking about a food production line, the human eye or a normal camera is not accurate enough to detect, if the food package is airtightly sealed. The narrow bands of HSI sensors can detect water content, potential diseases, or chlorophyll content in leaves which are invisible to RGB sensors.
HSI is not just for large academic research projects and corporations.
HSI has been applied in a wide range of applications and industries: to detect rock minerals from airborne images, plant diseases in agricultural crops, eye anomalies in biomedical imaging, foreign materials in food processing, and in surveillance using thermal HSI for detecting hidden enemies.
Sensor prices are rapidly decreasing. The performance-to-cost ratio meets the industry standards, allowing small to medium size companies to invest in automated quality inspection setups. In addition, sensors are becoming more versatile. New sensors are introduced for specific conditions; from lightweight sensors for drones, robust airplane compatible sensors, to sensors for industrial applications requiring real-time data collection.
Limitations of Hyperspectral Imaging
Being able to detect minuscule differences because of chemical differences makes Hyperspectral imaging incredibly powerful. However, there are also limitations.
The amount of data collected with HSI is much larger compared to conventional RGB setups. This increases latency and makes the data slower to process. However, this can be improved by testing, which spectral bands are the best to use in a specific case and then limiting the number of spectral bands from e.g. 128 to 8. That way, HSI is also suitable for fast production lines.
Hyperspectral imaging is useful for applications in which the object of interest can be distinguished by its surface properties. Thus, color matching and finding foreign materials across a product stream make good candidates. Unfortunately, HSI can not penetrate the surface of an object. Applications, where we need to look inside products (such as bone detection in meat processing) do not work.