Recently, there has been a high demand for GIS Data Engineers as data engineering and location intelligence are rapidly growing. Factors such as increased skill requirements, technological advancements, and increased market competition have contributed to this trend. At Advian, we've successfully hired and attracted top talent to join our team of experts, including GIS Data Engineer Jere. In this blog, Jere gives an insight into his role as a GIS Data Engineer, some successful projects and shares his tips for aspiring GIS Data Engineers.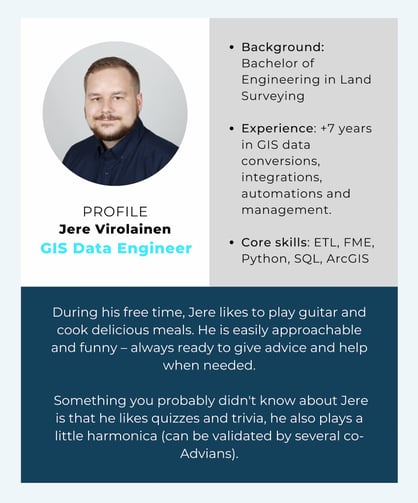 According to Jere, being a GIS Data Engineer is about planning and executing systems and integrations for collecting, storing, and analysing large volumes of data with location attributes.
For example by,
Integrating various systems and managing their data in one single place, which can then be further used for different spatial analytical purposes.
Doing spatial analysis, designing geographic information systems, database schemas, web mapping applications, and representative maps that not only data scientist, but regular users can utilise for further analysis.
Designing and executing data flows, especially when they are related to geographical data e.g. data with coordinates.
Administrating and maintain geographic information systems and related tools, platforms and softwares.

A good holistic example of a GIS Data Engineer's project would be designing a database schema and workflows for inputting data with spatial aspects from a web mapping application into the database. This workflow could for instance include spatial analysis in the backend.
What's in a GIS Data Engineer's toolbox?
There are various skills that you can find in a GIS Data Engineer's toolbox, such as:
basic understanding of coding in general (for example Python, Javascript and SQL)
understanding relational databases
familiarity with spatial analysis

and much more.
In Jere's experience, it's also important to understand ETL workflows and how they should be implemented, coordinate systems, geographical information systems in general and common GIS applications (for example, ArcGIS or QGIS).
Besides the technical skills, there are a few fundamental practices in Jere's day-to-day life that strongly define his way of working.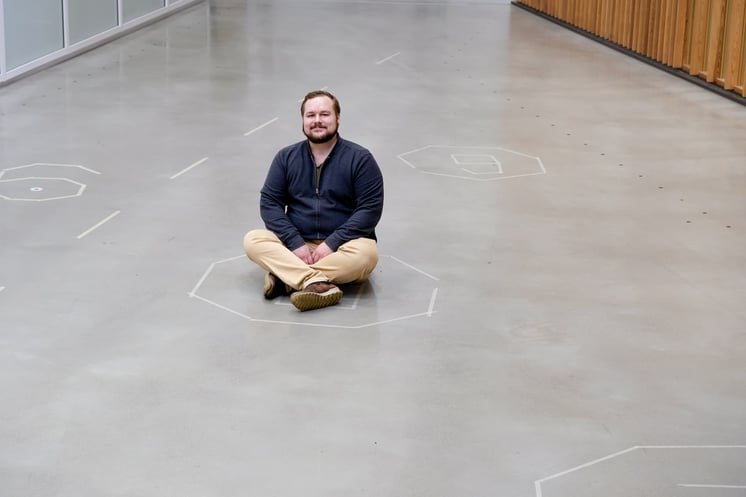 Firstly, communication

Having excellent communication skills is necessary for any GIS Data Engineer when collaborating with multiple teams and different stakeholders. Understanding the business's needs is essential in order to efficiently design and build solutions that best suit the requirements.
Make sure to modify your language to your audience. Whether you are talking with business or other technical experts, don't expect everyone to understand GIS-specific vocabulary. Adaptability in communication is key.
Secondly, understand your data
Designing and implementing data flows and integrations require a comprehensive understanding of what kind of data you're working with. Focus on doing a proper inventory of the data and its attributes.
When working with spatial data, you need to understand the geographical aspects and the spatial nature of your data. For example when calculating an area, there might be a drastic difference in results depending on whether you used a projected or a geographical coordinate system. The location of your data matters since the distortion, hence the difference, gets bigger towards the Earth's poles.
Things to consider when working with spatial data:
How much data is there? Crucial for optimizing e.g. the performance of Spatial Analysis, Databases and Web Mapping Applications
What is the geographical location of the data, and how widely is it spread geographically?
What is the nature of the data? Vector or raster data, are we talking about polygons, points, lines or all of them? Are they used in 2D or 3D coordinates?
What are the final use-cases for the data?
💡 What other skills are necessary for a Data Engineer? Read from our previous article "TOP 5 soft skills to succeed as a Data Engineer".
Jere's final thoughts
During his career as a GIS Data Engineer, Jere has had the opportunity to participate in several interesting projects. One of them was about cutting annual operational costs by 64 percent of a Finnish commercial bank by implementing a total renovation of the bank's GIS platform. Jere worked closely with geocoding and publishing the materials to the new GIS platform.
Here are Jere's final takeaways 👇

What do you think will be the next big technology that you want to learn next?
As the technologies in the field continuously develop, a GIS Data Engineer needs to keep learning new skills to stay on top of the trends.
When asked, Jere summarises that the use of Artificial Intelligence and Machine Learning will grow tremendously in the coming years. For example, Machine Learning can already be used to categorise spatial data (such as satellite images), identify patterns and produce insights.
As for other fields, Jere says:
"While I do have some experience so far, I want to enhance my skills within cloud environments such as AWS and Azure Cloud". – Jere
What have you learned the hard way during your career?
A word to the wise, never underestimate the scope of a task, even though it may initially sound easy and fast to implement.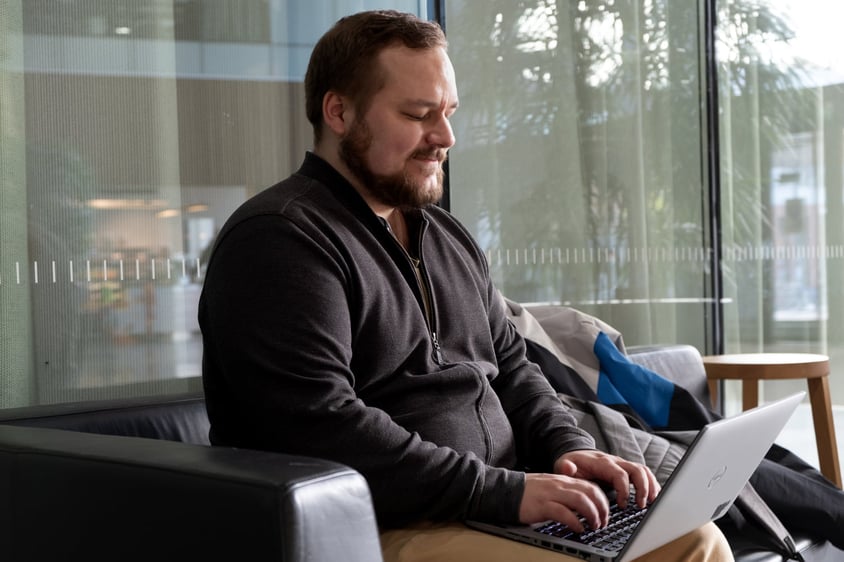 Interested in a career at Advian?
Perfect! Check out our career page and get to know us 👇