Sharper Shape is an international provider of automated drone and helicopter-based electrical network inspection services. Advian has been accelerating the company's strong growth from spring 2019 in various projects.
The Finnish Sharper Shape is not just any company - in 2015, it made aviation history by conducting the first commercial BVLOS (beyond visual line of sight) drone asset inspection flight in Europe. The company represents the absolute top of the world in the utility inspection services, as others do not offer both data collection and processing on the same scale.
"At the moment, our largest projects are abroad. In these projects, we utilize helicopters. The data is very diverse, and we utilize several different sensors, such as high-resolution images taken with 4K cameras, laser scanning data, and hyperspectral data. By combining and analyzing the data, we can produce valuable information and reporting to our customers," says Jussi Jurvala (Digitalization and QA Manager, Sharper Shape).
Sharper Shape's core competencies are sensor systems and software solutions developed to automate inspections, which enable previously manually made expensive power line inspections to be performed safely, quickly, and cost-effectively.
Cooperation, project management, and product development
Sharper Shape's projects require special expertise in many fields, including in-depth knowledge of geoinformatics, remote sensing, hyperspectral imaging, and 3D modeling.
It is often difficult to find top performers in Finland with just the right competence profile. When Sharper Shape needed experts for the application development of automated drone inspections and the hyperspectral imaging development project, they found the solution at Advian's camp.
"We have managed to find the right people for our team. We understand what the top players at this level need and want, and that is why we have such experts," says Laura Tuomikoski (Senior Advisor, Advian).
Sharpe Shape's software developed for drone imaging of high-voltage networks enables automatic condition inspection safely and accurately. Advian was developing the back-end service of the software that calculates flight paths. The purpose was to create a safe and optimal flight path based on a point cloud formed by laser scanning.
"Advian has supported us in our journey since the spring of 2019. We have seen clear benefits in terms of product development, data quality improvement, and other consulting," says Petri Rauhakallio, VP of Customer Operations at Sharper Shape.
Sharper Shape is at the forefront also in remote vegetation mapping services. Accurate 3D models are created of vegetation growing near powerlines, and trees growing dangerously close to powerlines can be identified automatically. Advian has been a part of the development team that has improved the accuracy and data quality of the remote sensing models. Vincent Markiet, a data scientist at Advian, has been developing accurate canopy height models for the project. Currently, he is finalizing his dissertation on remote vegetation mapping.
Advian has also worked on converting laser scanning data between different coordinate systems. Conversion parameters can sometimes be very complex. Advian helped Sharper Shape in the data projection, thus improving the accuracy and correspondence of the data to the real world.
Vincent Markiet, data scientist at Advian on the left and Jussi Jurvala, Digitalization and QA Manager at Sharper Shape on the right.
Quality assurance and training data for machine learning models
Sharper Shape projects are often massive in scale. Although most of the work is fully automated, additional resources are needed specifically for quality assurance and for the production of training data for machine learning models.
Petri Rauhakallio (VP of Customer Operations), Sharper Shape's project manager, decided to contact Advian's CEO Janne Honkonen:
"We have had great experiences with Advian consultants on the programming and project management side. At first, we thought of recruiting our quality assurance team internally, but soon we noticed that this is not going to be possible with our resources alone," says Petri Rauhakallio.
Producing training data and quality assurance for machine learning models requires knowledge and understanding of 3D modeling. For this reason, Sharper Shape decided to form the Gamers Team. Sharper Shape has been growing so fast that they have decided to expand within the Espoo property a couple of times already.
"We would not have had any chance to get such a large number of skilled people for the project just with our resources. Advian was able to find the right people and experts quickly. Cooperation and assembling the team with Advian was the best option for us," says Jussi Jurvala.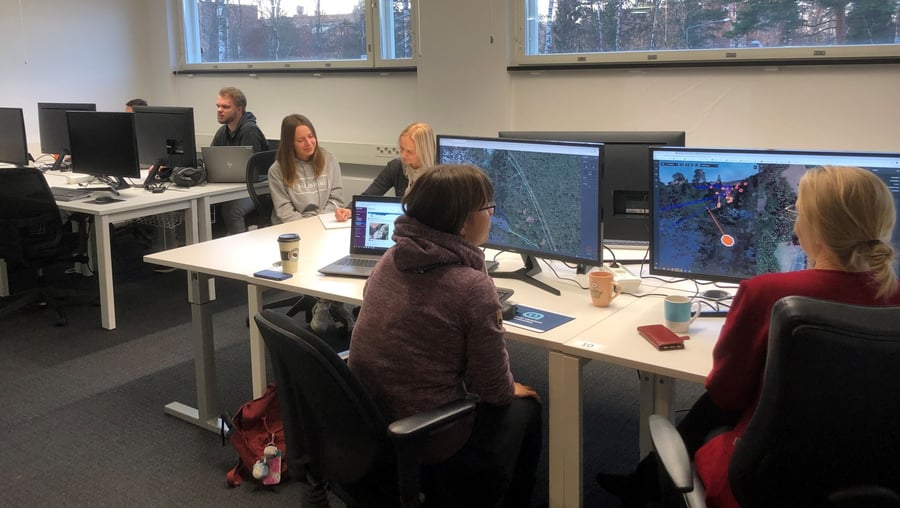 Gamers Team.
Topics: Ai, News, Utilities, Advanced Analytics, Machine Learning, GeoAI, Hyperspectral imaging